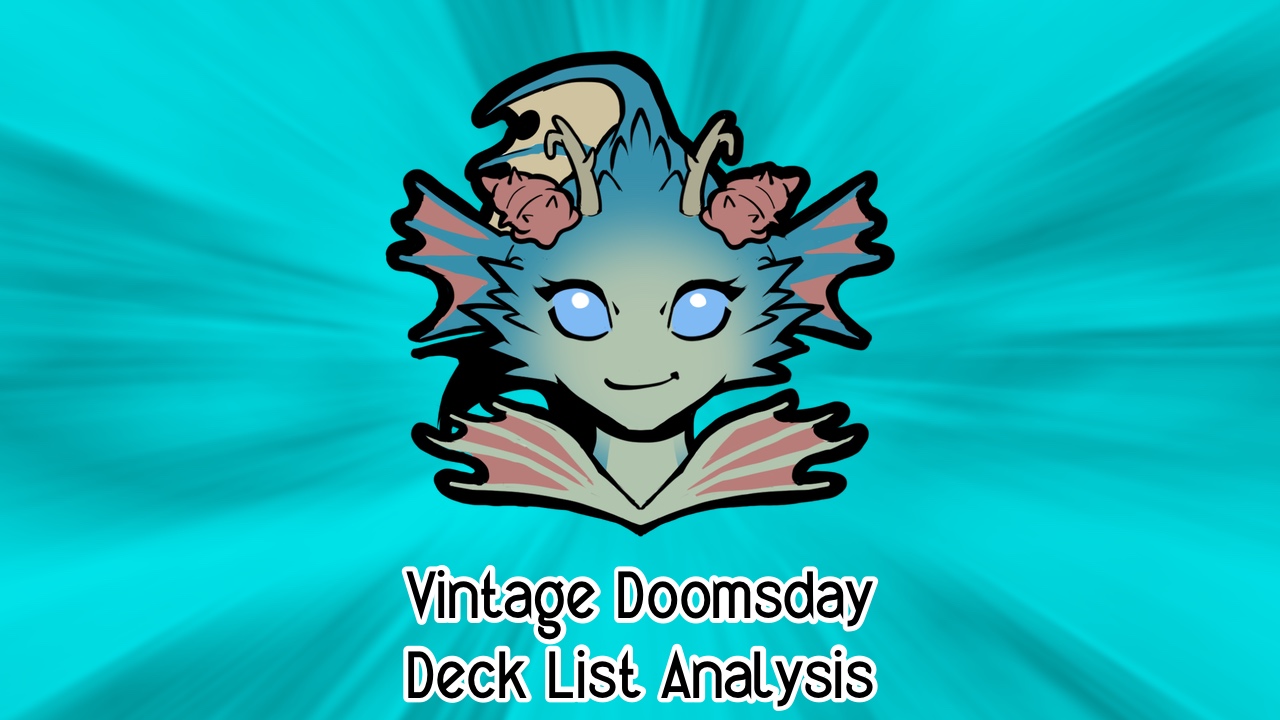 Vintage Doomsday Deck List Analysis for 2023.09.24
Look what Lorien Revealed has done to Doomsday!
Saturday Challenge
London Vintage Tournament #2 - September 2023,
League
Core and Differences
Main Core: 53 cards Side Core: 8 cards
Core
MaxMagicer - 24th Place Differences
Hugh Karp -4th Place Differences
TeferiBokaer - 5-0 Differences
Total Differences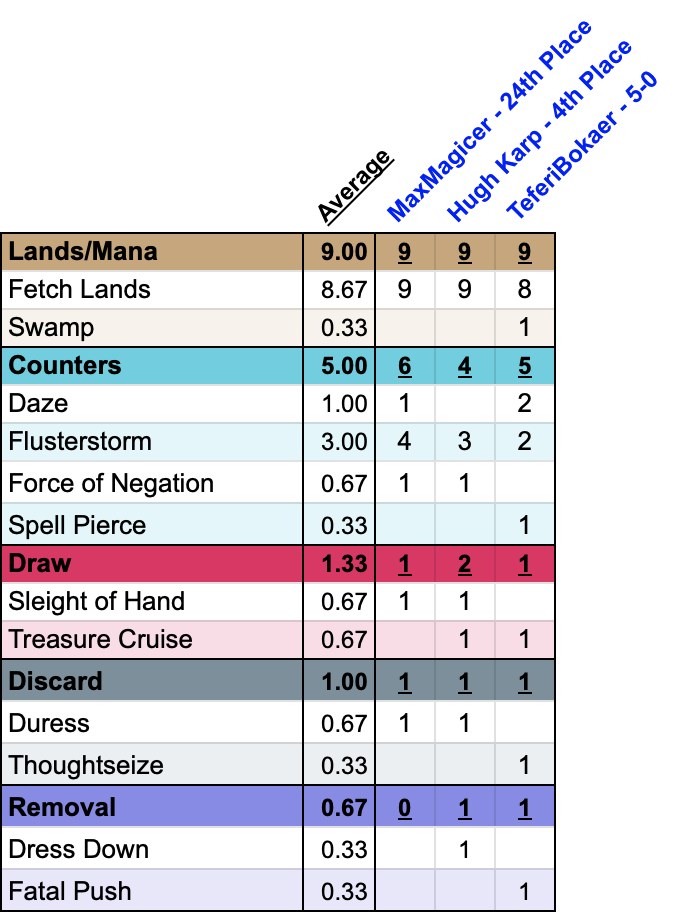 Main
Averages
Side
Averages
CoreCombo
6.0
Counter
10.0
Counter
2.33
Discard
1.0
Discard
0.67
Draw
17.33
AntiArtifact
2.0
LandsMana
21.0
AntiGraveyard
4.0
Removal
0.67
Removal
5.0
Tutor
4.0
Creature
1.0
| Main | Difference | Side | Difference |
| --- | --- | --- | --- |
| Counter | +1.60 | Counter | +0.13 |
| Creature | -0.40 | Creature | +0.20 |
| Discard | +0.40 | Discard | -0.13 |
| Draw | -0.07 | | |
| Lands/Mana | -0.60 | | |
| Removal | +0.07 | Removal | -0.20 |
| Tutor | -0.40 | | |
| Other | -0.60 | | |
Thoughts
As far as the lists go this week, I am curious to see the Basic Swamp in TeferiBokaer's list. I am confused as they didn't even play a third Polluted Delta, but instead an extra Misty Rainforest. Perhaps that was a mistake. I don't like Fatal Push over Dress Down in the main, but there are so many worse choices at the moment. Spell Pierce also feels strong with Shops on the rise as well as these non-Shops decks playing full sets of Wasteland and Urza's Saga. That is no good for Doomsday.
Forty-four (44!) of the top 32 lists from Saturday and Sunday were running four copies of Wasteland. Thirty-six had a playset of Urza's Saga. Who would have thought a five-mana common would have made this possible. Lorien Revealed does a lot of work. Waste something and use an off-colored Mox to get an Underground Sea. Play Saga and rest assured that you'll have an Island next turn. And no need to fetch! It even works as a late-game Ancestral Recall.
Doomsday cannot make as good of use of it as we lack the extra Moxen. Still, I'd rather it over Mishra's Bauble or Treasure Cruise at the moment. That it can get us extra lands without being taxed by Thalia or Spheres, pitches to Force of Will, and can even thin piles, I think it's time I do another Doomsday Prep episode with four copies of Lorien Revealed.
---
If you enjoyed this article, consider supporting me on Patreon. Or how about a tip via Paypal? You can even sign up with ManaTraders using my link to give me some bonus credit. Got an Amazon Prime subscription? You can give me a free sub on Twitch!
Best of luck to everyone playing this weekend!
Remember: Always Be Casting Doomsday.
Thanks, I love you.