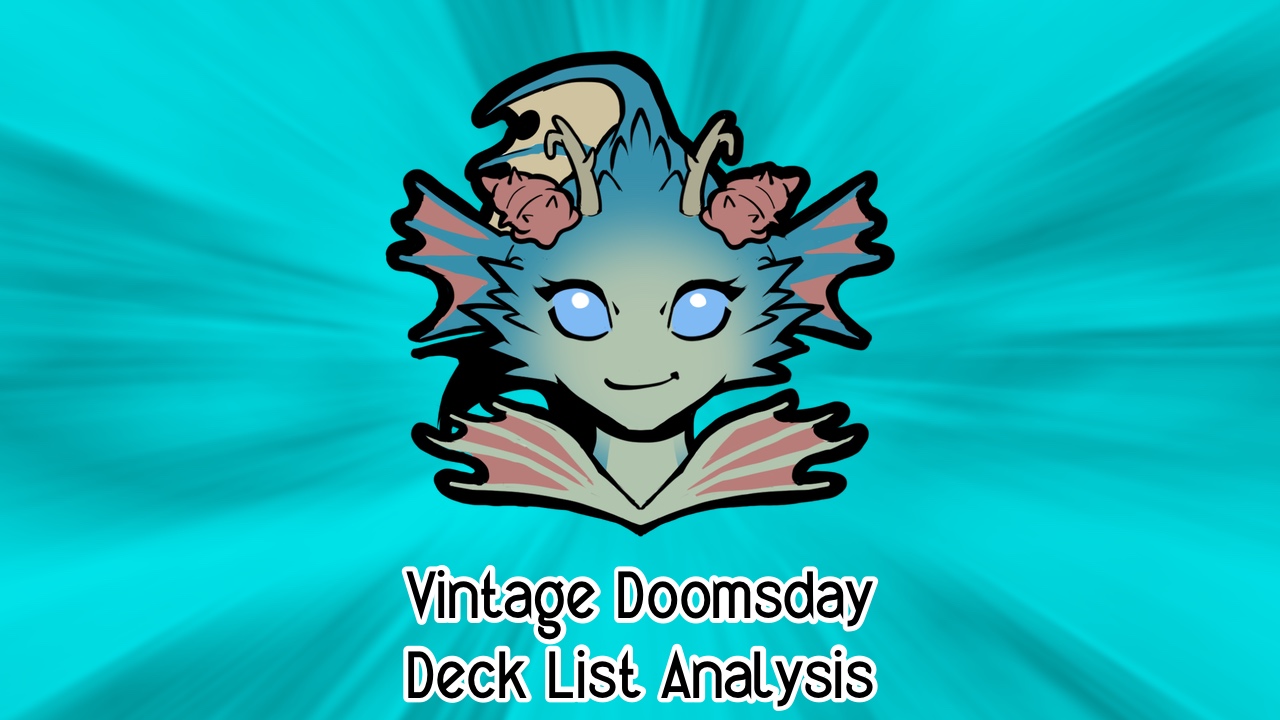 Vintage Doomsday Deck List Analysis for 2023.02.19
Want to improve your core? Check out this week's Doomsdata!
Saturday Challenge
Sunday Challenge
Preliminaries
Core and Differences
Core
SenpaiBlank - 15th Place Differences
Vertyx_ - 20th Place Differences
discoverN - 26th Place Differences
discoverN - 3rd Place Differences
SingPanMan - 5th Place Differences
duke12 - 15th Place Differences
SenpaiBlank - 19th Place Differences
ecobaronen - 22nd Place Differences
Vertyx_ - 3-1 Differences
Total Differences
Thoughts
Main Core: 54 cards Side Core: 5 cards
There seem to be two paths for the mains now.
One is the Mishra's Bauble route. I am a fan of this as information is power. Plus drawing cards when you have to pass the turn is amazing. There are so many neat plays to be done when you Doomsday and have a draw coming during your opponent's upkeep. Other than that, people tend to be on the 3 Counterspells and a Draw spell plan. Sleight is still extremely popular, although I'm starting to wonder if Cling to Dust shouldn't get a little play to help with the problems Control Bazaar have been causing for the deck.

Compared to last week's lists, the only difference is someone playing a Mystical Dispute and no one playing an Island. Players with two copies of Tabernacle are up. Opposition Agent and Murktide Regent are down while Sheoldred is slightly up. Creatures overall are down, however. The big jumps are in Counters and Removal.
I'm curious how ecobaronen felt about three Leyline of the Void. I've been back on them myself since, well, if it ain't broke don't fix it, right? Still, I'm not completely sold on that being the right play for Doomsday. Maybe if we were packing Grief to pitch the extras drawn. Yes, the deck is supposed to win in the first few turns. That likely makes Leyline the right call. Still. Something feels off to me. Maybe that's my Bad Player Sense?
---
If you enjoyed this article, consider supporting me on Patreon. Or how about a tip via Paypal? You can even sign up with ManaTraders using my link to give me some bonus credit. Got an Amazon Prime subscription? You can give me a free sub on Twitch!
Best of luck to everyone playing this weekend!
Remember: Always Be Casting Doomsday.
And thanks! I love you.