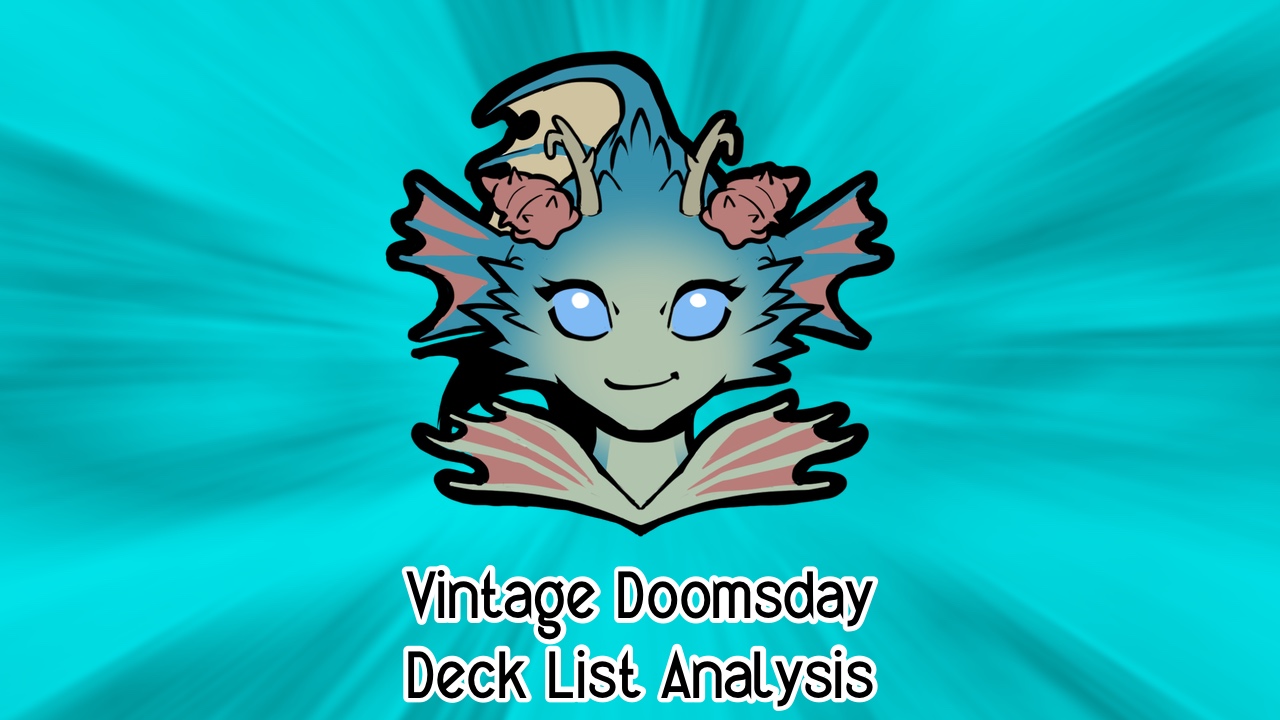 Vintage Doomsday Deck List Analysis for 2023.01.01
Happy New Year! We've got some interesting stuff going on already in these lists.
Super Qualifier
Saturday Challenge
Sunday Challenge
Core and Differences
Core
IdraftTheBeatz (3rd Place) Differences
Vertyx_ (20th Place) Differences
Alpha_Omega (28th Place) Differences
sixmp (18th Place) Differences
sixmp (4th Place) Differences
discoverN (11th Place) Differences
IdraftTheBeatz (16th Place) Differences
desolutionist (21st Place) Differences
Total Differences
Thoughts
Main Core: 53 cards Side Core: 3 cards
So last week discoverN tried two copies of Mishra's Bauble and thought, "I need four." This helps when playing Treasure Cruise and Dig Through Time. On top of that, that little bit of information must give a slight edge. It's interesting and I'm looking forward to giving them a try. What got cut was three counter spells and the discard spell. Trading interaction for a bit of speed.

The cuts didn't stop there for discoverN who is down to 1 copy of Steel Sabotage, only one creature in Murktide Regent and is up to five pieces of removal and two copies of The Tabernacle at Pendrell Vale. I'm not sure I get both Tabernacles, as they aren't as great against current Bazaar decks as they are Dredge. I don't see them doing anything against Initiative. I must be missing something. Or it's as simple as it is good enough versus Bazaar.
desolutionist dropped Leyline of the Void for four copies of Dauthi Voidwalker. This is interesting, and the card has play against almost every deck. The thing is it is a bit slow against Bazaar.
Sheoldred, the Apocalypse is doing big numbers this week over Murktide Regent, a complete reversal of what we saw last week. Sheoldred is better against decks with Pyroblast, so if you're confident in your Initiative matchup, I'd say it is not a bad call at all.
Snuff Out is started to see an uptick as predicted. Virtue's Ruin does some work, but I worry not enough to make it a staple in sideboards.
With Doomsday's recent success I expect copies of Archive Trap to slowly increase.
Best of luck to everyone playing this weekend.
---
If you enjoyed this article, consider supporting me on Patreon. Or how about a tip via Paypal? You can even sign up with ManaTraders using my link to give me some bonus credit. Got an Amazon Prime subscription? You can give me a free sub on Twitch!
Best of luck to everyone playing this weekend!
Remember: Always Be Casting Doomsday.
And thanks! I love you.