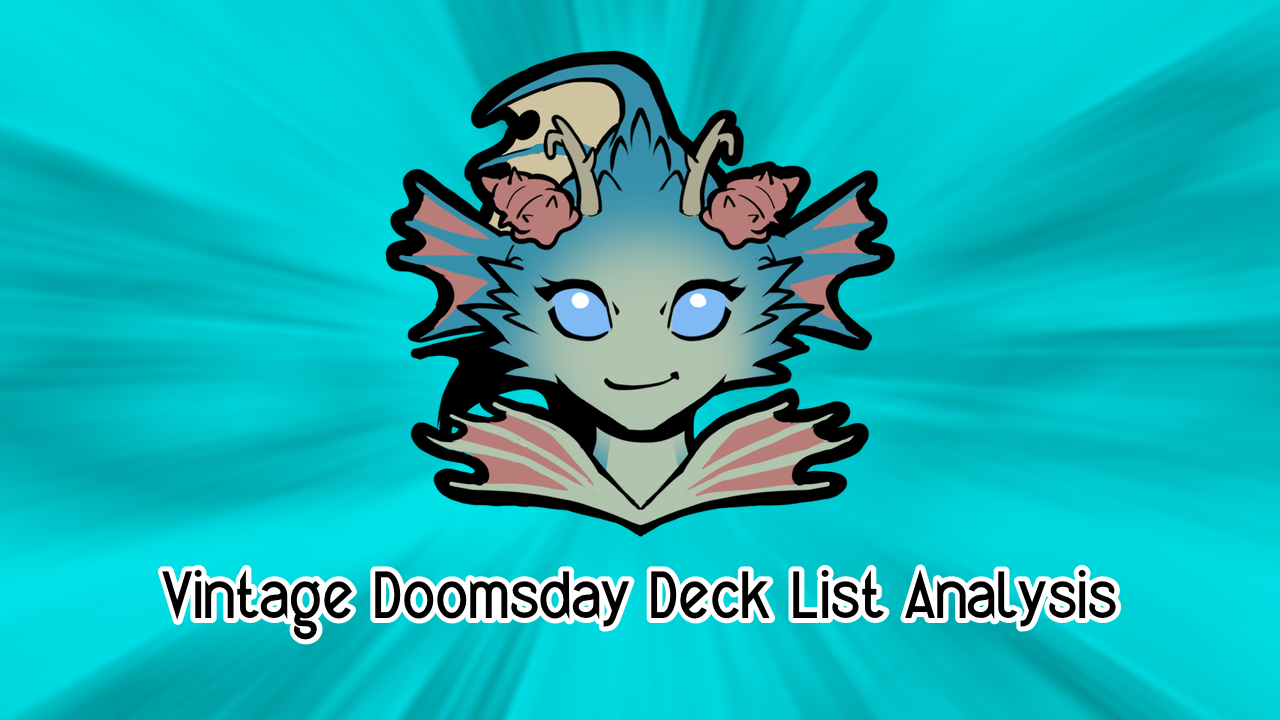 Vintage Doomsday Deck List Analysis for 2022.09.03-04
Only five lists this week. Sadly, no one got published in the Super Qualifier. I personally got 41st with my Sunday list. I am curious what discoverN chose to play, but they went 5-3 like I did, so no list.
Doomsday Player Event Breakdown
Saturday: 4/60 Players
Sunday: 4/50 Players
Super Qualifier: 7/160 Players
The Super Qualifier being 7 Doomsday players but with a 50% win rate tells me that perhaps we were not prepared enough for Tinker Saga. That and Esper being fairly good against us makes for a tough time.
We also have one player who chose an interesting sideboard juke. I'm not sure how good it is, it does have a personal favorite card of mine in the list.
Saturday Challenge
Sunday Challenge
League
Core and Differences
Core
Mammonth (10th Place) Differences
Diem4x (31st Place) Differences
revenantkioku (23rd Place) Differences
Yamaro (32nd Place) Differences
Clamavus (5-0) Differences
Total Differences
Thoughts
Main Core: 53 cards Side Core: 7 cards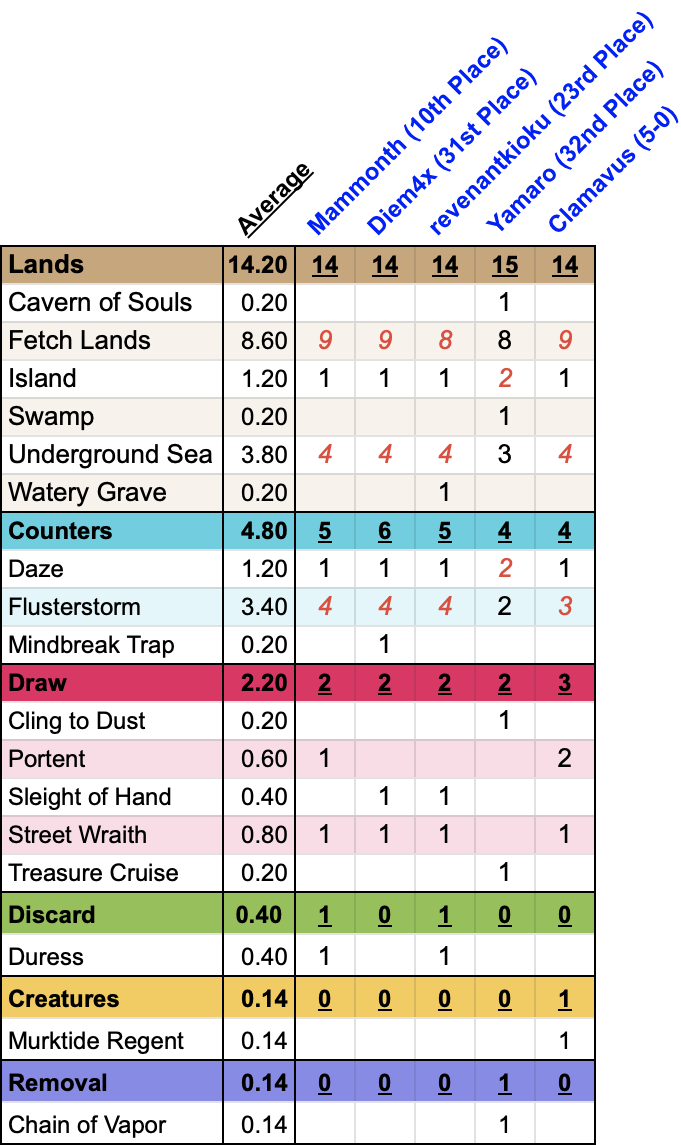 This week continues the trend of lots of counterspells. I played a Duress as Tinker's numbers are so high that we want a bit of proactivity. Sadly, there were enough times where it not being a blue card was more than enough for me to be unhappy with it.
Yamaro played Cavern of Souls and another copy of both basic Island and Swamp. This feels safer for longer matchups, but I'd hate drawing Swamp most of the time. Lotus Petal feels like a better choice.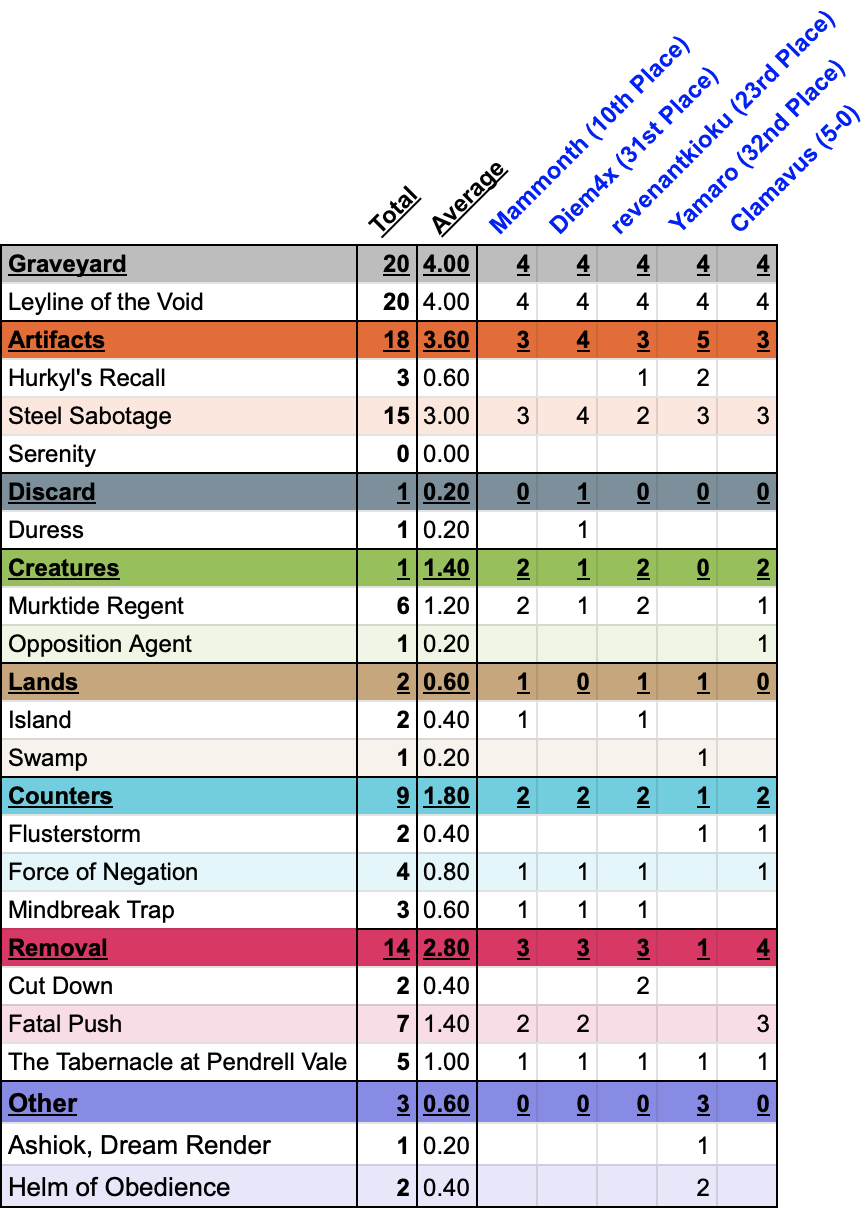 Ashiok, Dream Render is an interesting angle of attack against Tinker Saga decks. You can also mill yourself post Doomsday and play an Oracle to win. Leyline of the Void and Helm of Obedience is a tried and true combo, but I'm not sure what it is doing in Doomsday's sideboard.
---
If you enjoyed this article, consider supporting me on Patreon. Or how about a tip via Paypal? You can even sign up with ManaTraders using my link to give me some bonus credit. Got an Amazon Prime subscription? You can give me a free sub on Twitch!
Best of luck to everyone playing this weekend!
Remember: Always Be Casting Doomsday.
And thanks! I love you.