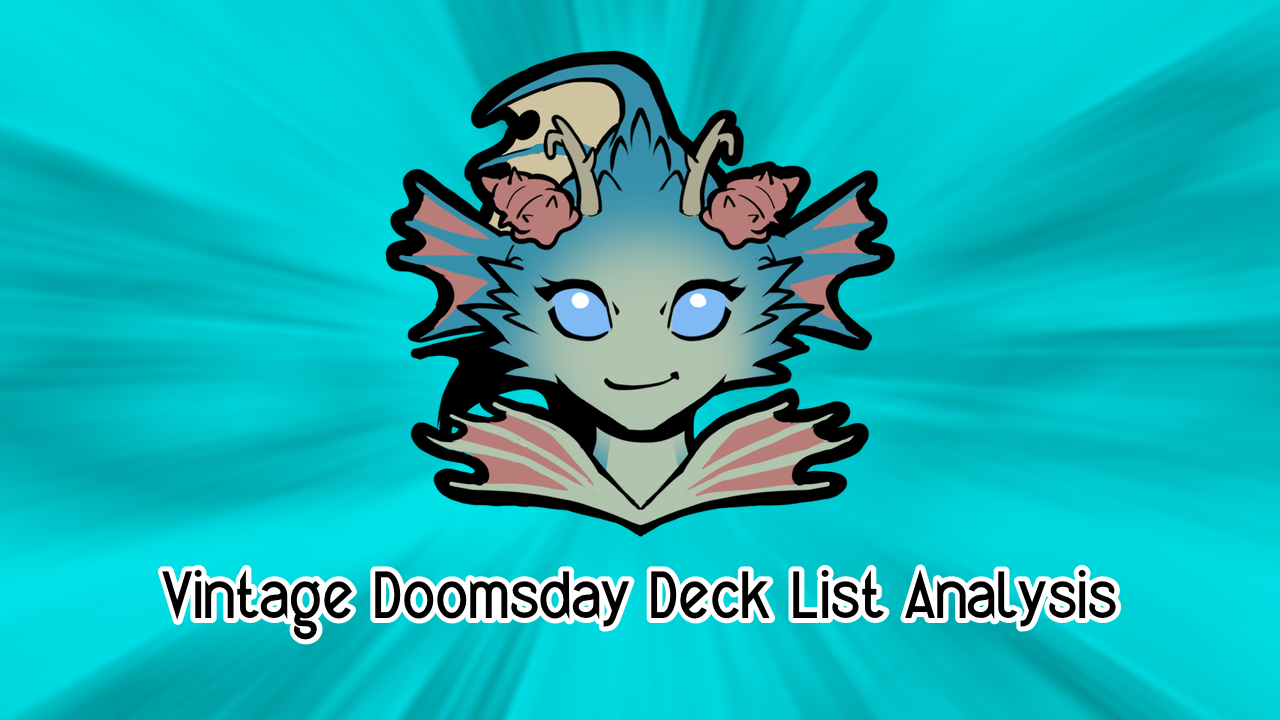 Vintage Doomsday Deck List Analysis for 2022.01.08-09
Happy... back to work? The holidays are over but we've got Vintage to play.
There's a 53-Main 8-Side Core this week, which is pretty big consistency for sideboards. There are some interesting main choices to look into this week.
Saturday Challenge
Sunday Challenge
Preliminaries
League
Core and Differences
Core
01 StormGuyisme (4th Place) Differences
02 Thiim (22nd Place) Differences
03 revenantkioku (30th Place) Differences
04 Gathienne (31st Place) Differences
05 revenantkioku (3-1) Differences
06 AKI114514 (5-0) Differences
Total Differences
Thoughts

Thiim and I had similar thoughts this week. Pack mainboard hate for artifacts. You can get rid of Constructs, impede Shops, bounce Hollow Ones and even pitch Hurkyl's Recall or Rebuild to Force of Will! You'll also notice we did not place very highly. StormGuyisme got a nice solid run just playing discoverN's latest list. (Gathienne did as well but seemed to not have as much luck.) Thiim and I both played maindeck Opposition Agent, which sometimes does work, but again, is this really what we want to be playing? Or are we trying to play UB Midrange with a combo win? Yeah. It's probably not the best choice. I don't agree with cutting Vampiric Tutor and Mystical Tutor, but at least Thiim did it alongside Necropotence, and did not cut Demonic Consultation.
AKI114514's only difference from discoverN's latest main was swapping Portent for Duress, which I think is a solid choice.

The sideboards are fairly standard, with Thiim playing Sedgemoor Witch, which again makes me worry if we're just trying to side into bad midrange. Karakas is nice to handle the bevy of Legendary creatures we've got going around these days. Tasigur is an oldie-but-goodie, and might be a solid choice if BUG and its ground creatures continue to rise. Then again, BUG lacks Pyroblast and Murktide Regent flies over Tarmogoyf.
Ratchet Bomb in Thiim's side really says "Fuck Construct tokens".
The prize this week goes Legion's End. You might remember this card if you played Standard back in the summer of 2019. We were exiling zombie tokens and removing lands turned into creatures from the game. (Thanks, Nissa!) If only this hit Archon of Emeria I would be completely sold. Still, it can do a lot of work for two mana.
---
If you enjoy these articles, consider supporting me on Patreon. Or how about a tip via Paypal? Thanks, and good luck to everyone playing this weekend! I love you.