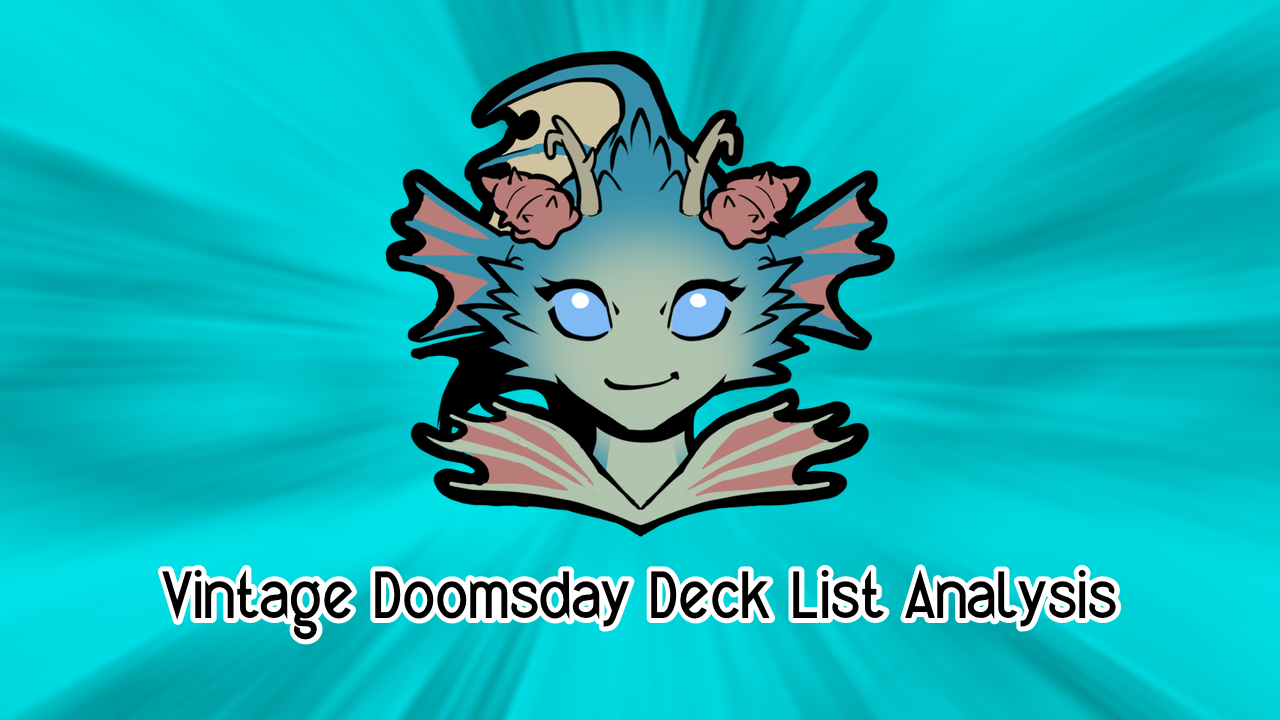 Vintage Doomsday Deck List Analysis for 2021.12.04-05
As the joys and tears of Eternal Weekend fade into the background, we find ourselves turning towards the gently shifting meta. Bazaar is back, Tinker still reigns supreme and everyone's favorite deck to hate, Doomsday, is getting some good results as usual.
Saturday Challenge
Sunday Challenge
Preliminaries
League
Core and Differences
Core
Thiim (14th Place) Differences
discoverN (27th Place) Differences
revenantkioku (3rd Place) Differences
musasabi (6th Place) Differences
Diem4x (10th Place) Differences
discoverN (25th Place) Differences
SingPanMan (28th Place) Differences
Total Differences
Thoughts
There are some interesting choices this week, and Treasure Cruise continues to be on the decline. Speed is the name of the game right now.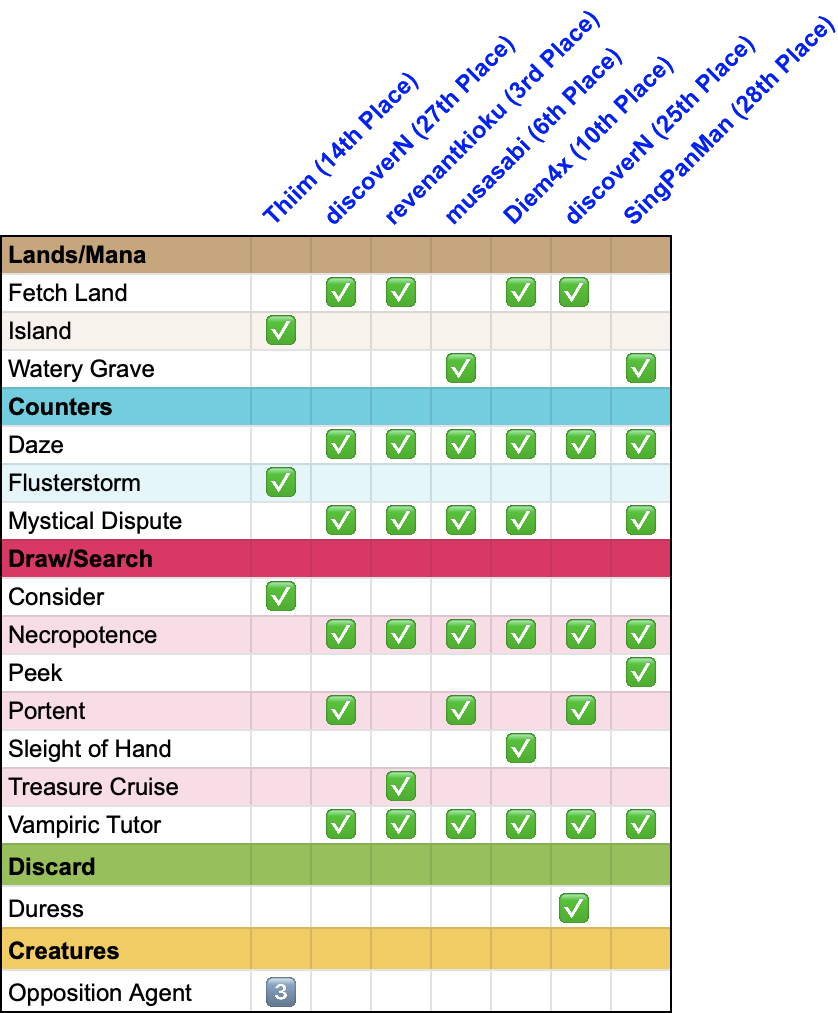 There's nothing too surprising here other than Thiim choosing to drop three staples, Necropotence, Vampiric Tutor and a Daze for main Opposition Agents. While I'm a fan of the occasional main Agent, there are other cards I'd consider taking out before Vampiric Tutor or Daze. Diem4x's playing of Sleight of Hand seems like a good choice with the many Tinker decks running Hullbreacher at the moment. Saying I wish we had a better cantrip seems a bit wild, but it would be nice to have more choices for things that put cards into our hands. The utility is nice.

I copied the 4 Pithing Needle strategy this week, but was not paired up against a single Bazaar deck. Whoops? I took the chance to side them in against Hatebears to try to stop Wasteland and it helped. Is going faster better? Maybe. I'm not sure where I land on this just yet, but the Needles will stay in my sideboard for a while.
Thiim tried some interesting cards this week to fight Graveyard decks. My concern is that they are all one shot, but they do offer some utility that Leyline of the Void can lack. Karakas can help fight against Ragavan, Thalia, Lavinia and Leovold. I don't hate it, and probably should place it in Removal instead of Lands, but I'm not sure we get enough value out of the card in Doomsday. Toxic Deluge is solid removal in Black, but I fear Doomsday has trouble paying that life, even if it usually will top out around three.
SingPanMan, and musasabi seemingly taking one of their lists from last week, are on Sedgemoor Witch, which I probably have to test more. I don't hate it, but I'm quite skeptical. At least we can Ritual it out, unlike my beloved Thing in the Ice.
I find it interesting that discoverN did not play Murktide Regent this weekend. I doubt that's why they placed lower this week, but the card still could use some testing, especially with Hatebears on the rise.
---
If you enjoy these articles, consider supporting me on Patreon. Or how about a tip via Paypal? Thanks, and good luck to everyone playing this weekend! I love you.