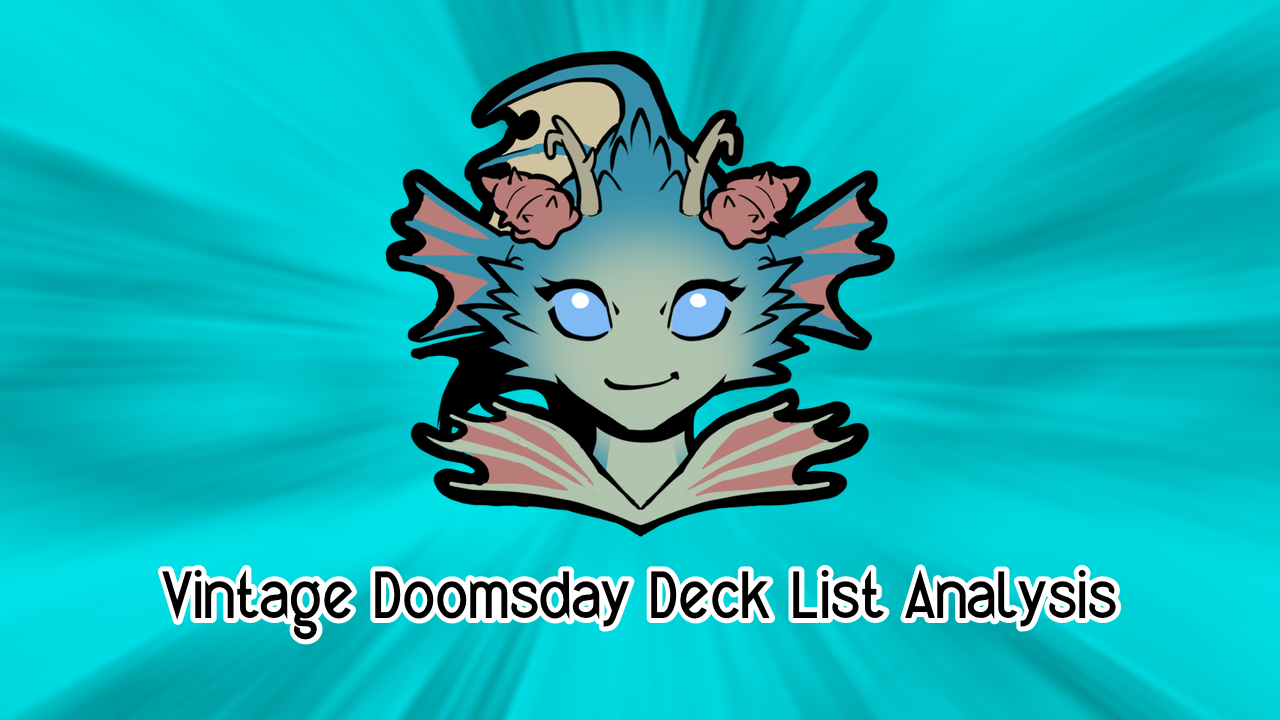 Vintage Doomsday Deck List Analysis for 2021.11.26-28
Eternal Weekend is over, but now we've got some data to analyze!
Also, to naval-gaze for a second, the passing of Eternal Weekend 2021 means I have been doing data on these Doomsday decklists for over a year! How time flies. Let me know if there's anything you'd like to see. Also, if you play Doomsday in a Vintage event on MO, send me your list if you're not published! It'd be great if Wizards would give us all lists but until they do, we just have to make do with what we have.
Big congrats to discoverN for making top 8 of two out of the three events, along with a challenge.
Saturday Challenge
Sunday Challenge
Eternal Weekend - Mox Emerald
Eternal Weekend - Timetwister
League
Core and Differences
Core
Enrichetta (6th Place) Differences
revenantkioku (22nd Place) Differences
SingPanMan (5th Place) Differences
discoverN (7th Place) Differences
discoverN (8th Place) Differences
discoverN (5th Place) Differences
Enrichetta (5-0) Differences
Total Differences
Thoughts
I made my work harder this week by playing a deck running four main Thing in the Ice as well as an Urza's Saga package. I think that package is something to consider, but maybe not now. Maybe not ever. It was worth testing as the ability to make some creatures and tutor up some of Vintage's best cards is just too good.
Main Thing? Wouldn't do it again. Urza's Saga? I'm tempted. Let's look at the other differences.


Fairly standard main lists here. discoverN's great performance during Eternal Weekend shows that it is skill over all. Tweak those flex spots as you will, but you need some luck and good Doomsday fundamentals.
I like Enrichetta trying out Consider, but while I was thinking it would be nice for fueling Treasure Cruise, I realized no one played it this weekend. That's a statement which might be "We need speed."

Let's ignore my goofy sideboard. We have more important things to talk about.
First, Energy Flux. discoverN rightly picked out this card as it not only works against Shops, albeit a bit slowly, but can hurt Vault-Key based Saga decks. At three mana it is a hard one to cast, but can buy vital time.
Secondly, discoverN also decided to play a copy of Murktide Regent. A fast clock and an excellent blocker, this effectively 2 mana 8/8 can do a lot against non-Pyroblast decks, and well, can waste the counters in said Pyroblast decks. I like it and will be trying it more.
SingPanMan tried out Hydroblast and Sedgemoor Witch. I'm not convinced the Witch is great for us, although it does buy lots of time against the ever increasing Monkey and Thalia decks, and unlike Murktide we can simply Dark Ritual it out. Hydroblast, though, tickles my fancy. Lots of Tinker decks are leaning Red for the power Underworld Breach can add, and let's not forget the aforementioned Pyroblasts.
Enrichetta continues to try different things by replacing Leyline of the Void with Pithing Needle and adding Gaea's Blessing to the side.
I spoke with Enrichetta for some insight on their choices. While Leyline comes out turn zero, it is less effective against the increasing number of HollowVine decks. Needle is equally as vulnerable to Force of Vigor, but much more easily cast. I also found it to be useful against Wasteland out of the Hatebear decks, buying me some precious time, and mana, to get my wins.
Gaea's Blessing is more of an interesting choice. While it is a completely dead draw, and an experienced Breach pilot can beat it, placing it in your Doomsday pile against decks playing Brain Freeze or Archive Trap can help avoid defeat. This also plays into their choice of Consider. Whereas other cantrips would just move it around the deck, binning it with Consider can get back lost lands and other important cards. It's an interesting choice I'd like to delve deeper into.
---
If you enjoy these articles, consider supporting me on Patreon. Or how about a tip via Paypal? Thanks, and good luck to everyone playing this weekend! I love you.