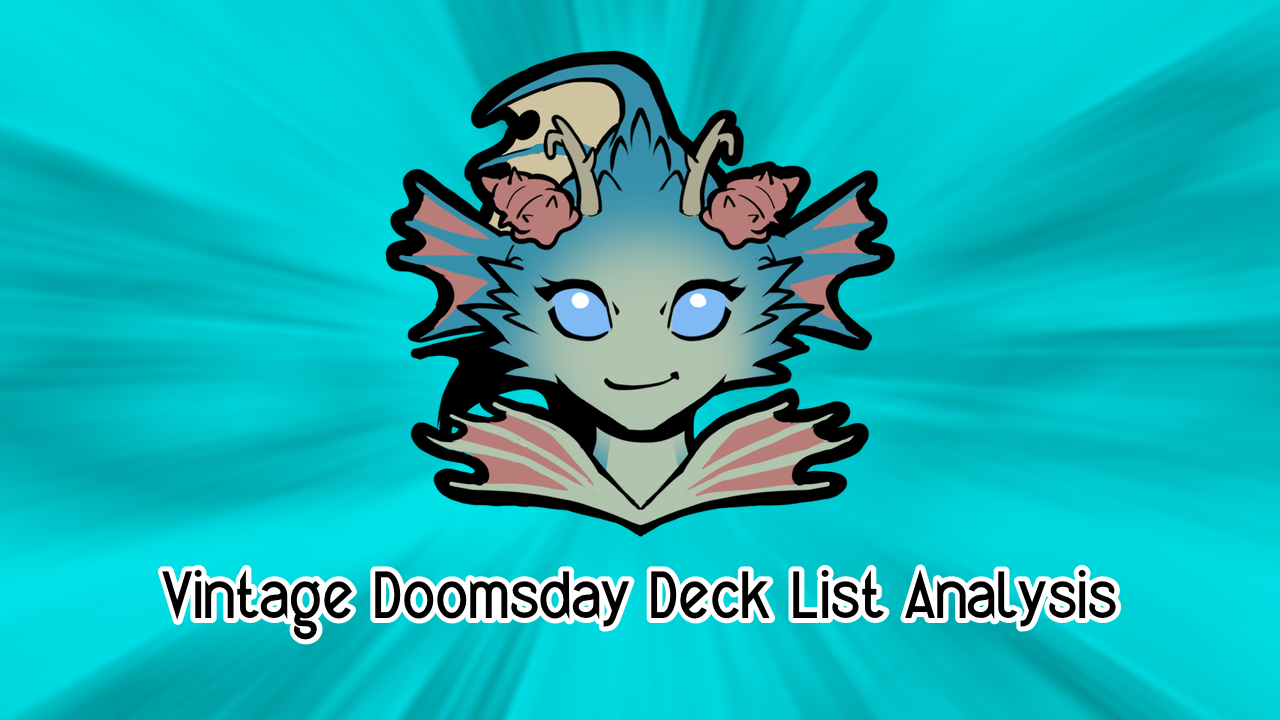 Vintage Doomsday Deck List Analysis for 2021.12.11-12
We've got a healthy number of lists this week. Sadly no Doomsday player took down the PTQ, or made it into the top 8.
Qualifier
Saturday Challenge
Sunday Challenge
League
Core and Differences
Core
StormGuyisme (9th Place) Differences
revenantkioku (18th Place) Differences
ecobaronen (3rd Place) Differences
discoverN (25th Place) Differences
discoverN (2nd Place) Differences
revenantkioku (19th Place) Differences
SingPanMan (32nd Place) Differences
Diem4x (5-0) Differences
Total Differences
Thoughts
56/5 this week. As much as I tried a few weeks back to find something better than Necropotence, we seem to be best with this main setup for the time being. Doomsday isn't likely to get a new card for a while.

Nothing strange out of the mainboards this week. I tried Peek as opposed to Treasure Cruise, as it seems to be too slow. Diem4x playing Duress over another counterspell makes sense. It's a more proactive version. Portent is the most popular. And as we've seen again and again, it's hard to argue with discoverN's consistency.

The arguments for Pithing Needle over Leyline of the Void were good. My results did not feel as good during the PTQ, and I went back to Leylines and Tabernacle for the Challenge. Energy Flux has mostly caught on and as long as Tinker decks and 8Cast about, it seems to be the right play. discoverN was back on Murktide Regent, and I also found it saving my bacon one game against Dredge.
White Hatebears has been on the rise and we see ecobaronen with the four copies of Fatal Push in the side. I dare say it's getting to the point where a maindeck copy might not be too shabby. That, or maybe Chain of Vapor deserves a mainboard position to deal with these increase in hate pieces that often can't be countered. Thanks, Cavern of Souls.
SingPanMan tried out Plague Engineer, which can nicely deal with Thalia, Ragavan, Spirit of the Labyrinth, Luminarch Aspirant before it starts adding counters, as well as a slew of other creatures. It even blocks Dreadhorde Arcanist quite nicely. Not to mention that it can be cast via Dark Ritual, much like Hydroblast, this seems to be a solid choice depending on the expected meta. Shame that Ichorid is a Horror and not a Zombie.
---
If you enjoy these articles, consider supporting me on Patreon. Or how about a tip via Paypal? Thanks, and good luck to everyone playing this weekend! I love you.