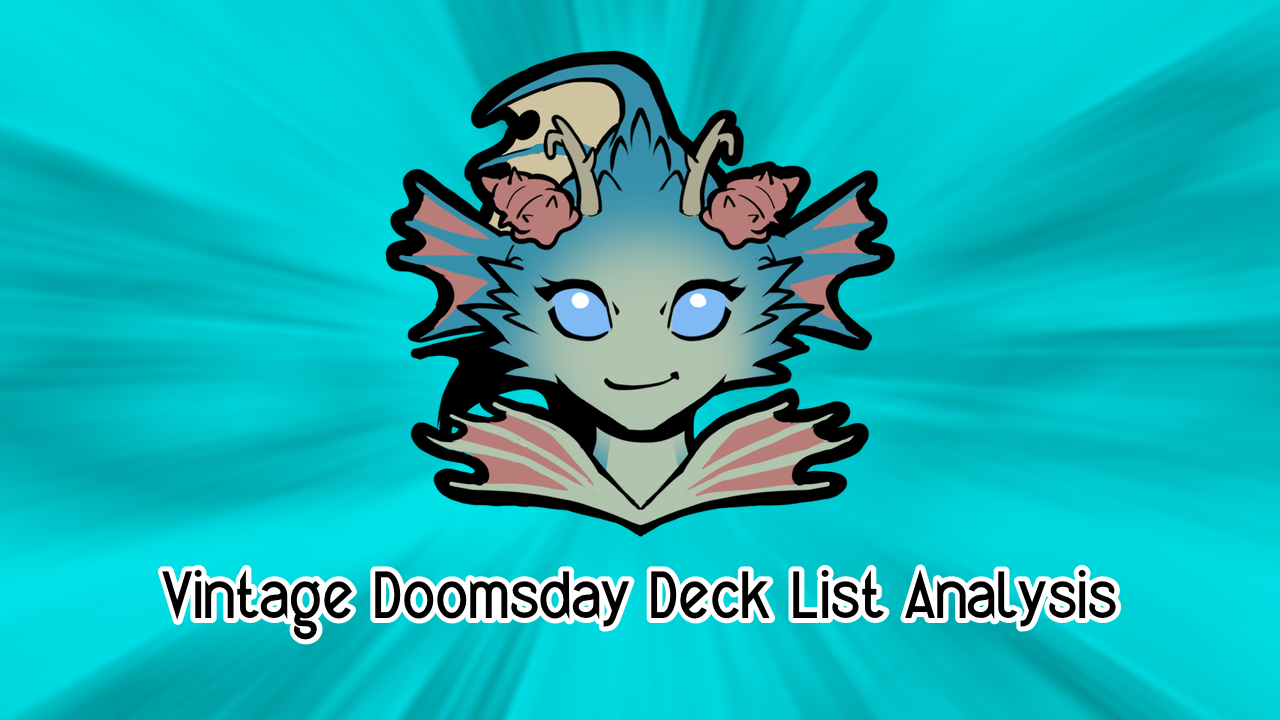 Vintage Doomsday Deck List Analysis for 2021.09.25-26
Hey, Friends and Shops Players, it's time for this week's deck list analysis. It seems that with no Vintage Showcase Challenge this season, Preliminaries are not firing. Hopefully that does not result in less Vintage events, but the challenges seem to still have good showings. Keep on playing!
Saturday Challenge
Sunday Challenge
Core and Differences
Core
01 yamakiller (16th Place) Differences
02 TheJigIsAlwaysup (5th Place) Differences
03 revenantkioku (31st Place) Differences
04 Tiemuuu (32nd Place) Differences
Total Differences
Thoughts
TheJigIsAlwaysup returns this week with another Top 8 showing, so hey, maybe there is something to think about here.


Everything in the main is fairly standard, except for Tiemuuu playing Cling to Dust. While this is fairly good in a heavy Bazaar environment, I'm not sure the card gives us much value now. It has marginal use versus Jeskai and BUG, but not enough that I'd want it over something more reliable like a counterspell.
That said, everyone was playing Treasure Cruise this week. We need that card draw.

We see yamakiller and TheJigIsAlwaysup with no Graveyard sideboard cards. Tiemuuu being on four makes me think maybe they just grabbed a list to play Doomsday and had not in a while. Tasigur and the rest make it look like a staple list from a few months ago. Nothing wrong with that, just not finely tuned.
My sideboard was a mess. I wasn't sure where I wanted to be, and ended up with a lot of little options. I did play Dredge and Surgical Extraction bought me a turn, and then I misused one, so I'm not entirely sure how I'd rate them. Null Rod continues to impress, although it can be a bummer if "Whoops, I drew my artifacts." or "Whoops, didn't find the resources to put together my combo." But such is Magic some days.
Pithing Needle as a one-of didn't feel great and I see Jig dropped the play set of them to go all in on having counters and hate for Shops decks.
Cavern of Souls still seems like an interesting choice, but I have yet to have it come up. My problem has been I either win against Blue decks too quickly for it to matter, or I never resolve Doomsday against them. But that's more on my own
If you enjoy these articles, consider supporting me on Patreon. Or how about a tip via Paypal? Thanks, and good luck to everyone playing this weekend! I love you.