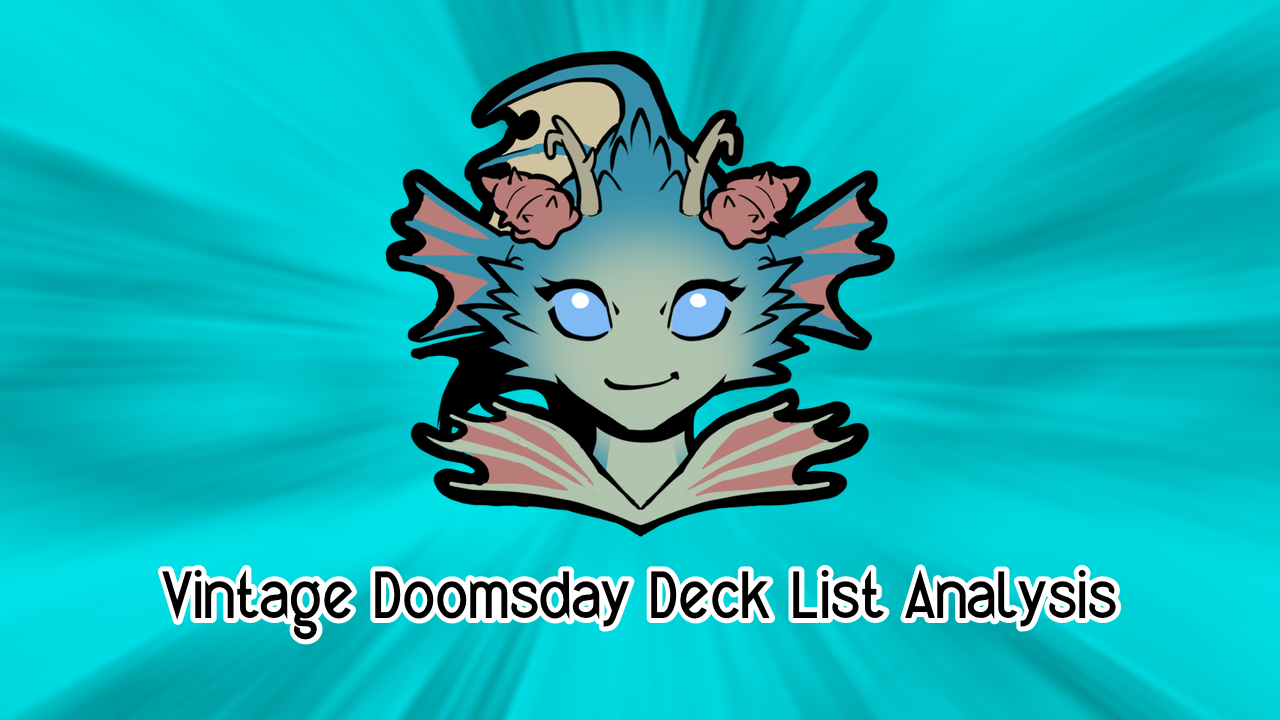 Vintage Doomsday Deck List Analysis for 2021.01.16-17
Congrats to discoverN on the back to back challenge victories running the same list! There's some interesting things to look at this week, so let's get digging.
Saturday Showcase Challenge
Sunday Challenge
Preliminaries
League
---
Core and Differences
Core
discoverN (1st Place) Differences
Clone9 (5-0) Differences
Diem4x (27th Place) Differences
Nammersquats (3-1) Differences
DinoBelcher_BogBoyz (26th Place) Differences
MaxMagicer (4-0) Differences
Total Differences
---
Thoughts
Four Street Wraith has become almost standard. Speed is important right now. Everyone was only running one draw spell in their flex slots this week. (Well, three if we count two of the extra Street Wraiths.) But here was quite some variance. MaxMagicer's use of Opt is curious. I'd prefer the information Peek provides, even though Opt digs deeper. discoverN is still on Portent, and after a few games with it, I have to admit it is a strong card.
Everyone was on a Watery Grave or an extra Fetch Land. We also had the normal variety of counters, bounce and discard show up.
Nothing particularly stands out in the sideboards this week. Fatal Push was generally preferred over Eliminate. Snuff Out is interesting, but the cost seems high. Gurmag Angler is still a "mirror breaker" of choice, but Opposition Agent is likely better.
Since discoverN did so well this weekend, I decided to give his list a spin. I found it to be solid. (That's obvious.) But after a couple of games with it, I missed the interactions offered by Chain of Vapor and Duress. The fact that his list runs neither surprises me. Still, those cards may be for helping you not lose more than they are there to help you win.
I would likely drop one Flusterstorm for either Chain or Duress main and put the other in the side. But then again, I am not winning back-to-back challenges.
I have to admit, I had my doubts about Library of Alexandria. But after opening with it a few times against Xerox decks, I'm in love. One opponent got upset in chat, claiming they were "90-10" to win the game, ignoring that I drew six cards with Library. The beauty of Library and Necropotence should be obvious. Although it happens rarely.
---
The $25 Mythic Event Token available now gets you access to almost all cards for tournaments. So have some fun this weekend. Although we don't know if those will become permanent or not, Wizards giving us options is great. Still, if you'd like to support me, feel free to sign up with ManaTraders. That link has my referral code in it.
Best of luck to everyone playing!