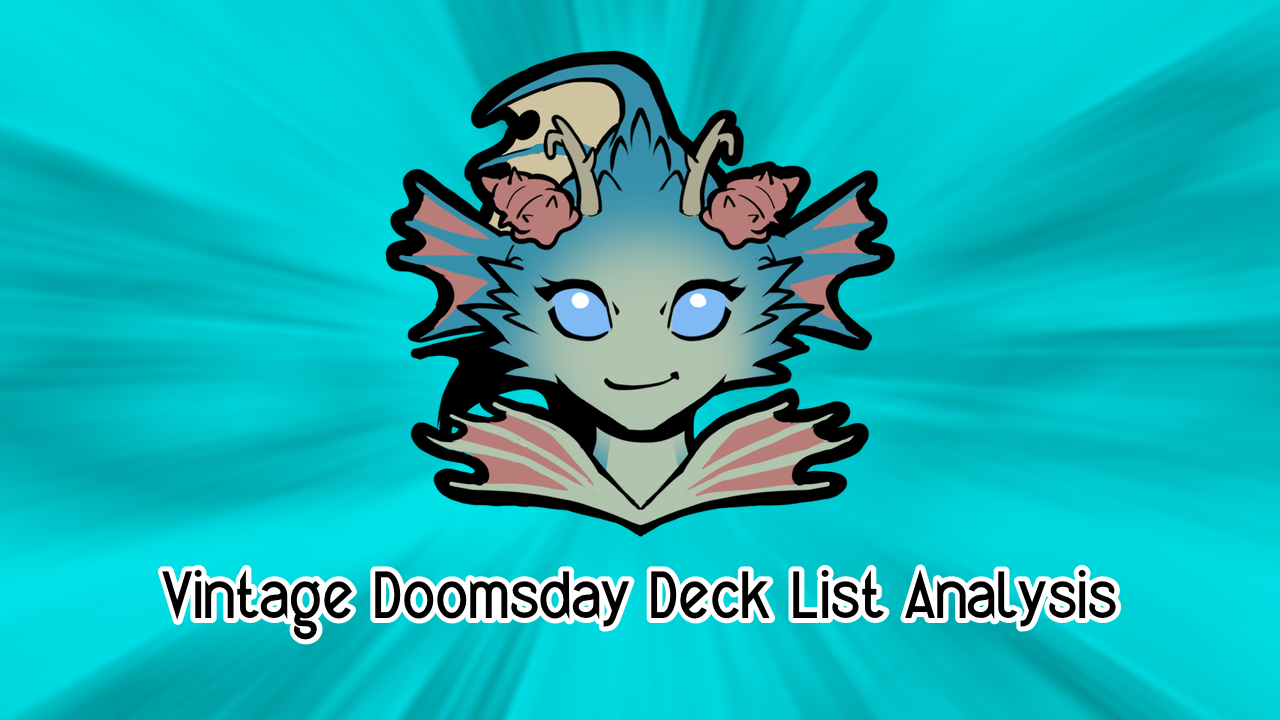 Vintage Doomsday Deck List Analysis for 2022.05.07-08
As Rick James once said, "Tinker is a hell of a drug."
I originally started this article including sandydogmtg's list in the data, but it's worth looking at on its own, while doing the regular comparison with the "standard" Doomsday lists.
Saturday Challenge
Sunday Challenge
League
Core and Differences
Core
sixmp (2nd Place) Differences
bennybo (9th Place) Differences
sixmp (1st Place) Differences
discoverN (10th Place) Differences
fake-news (18th Place) Differences
revenantkioku (23rd Place) Differences
TakeYourT1me (5-0) Differences
Total Differences
Thoughts
Main Core: 54 cards Side Core: 9 cards
I'm trying a new image format for Main cards. When a card is played in multiples in the Core but has differences between lists, I'll include the totals but mark the players that played more in italicized red. If the Core has zero, then it will be displayed as usual. I found myself confused on the number of Flusterstorms this week, hence the change. Opinions appreciated.

Merchant Scroll is all but gone. Daze is creeping back up in numbers and some goofball decided to play Opposition Agent instead of Necropotence.
discoverN gave Tainted Indulgence a spin this week, and I'm tempted to try it now. Instant speed card selection is pretty nice, but it is noticeably difficult to cast. That said, the potential of drawing two and not discarding late game is some solid advantage. It's going to be rare, but it's not impossible. Going up to four copies of Flusterstorm is quite the statement about the meta. Not to mention we have two separate players on double Force of Negation.

Murktide Regent is back, and I get why but I don't get why. I found myself looking for something to buy time against aggro decks, but something weak to Pyroblast feels like a dangerous choice. I liked Tasigur in my list, but seeing people going up to two copies makes me curious if that isn't the better choice.
I also played Path of Peril. I never drew it. The jury is still out.
Tinker Doomsday Citadel Why?
Now for something (completely?) different.
sandydogmtg (32nd Place)
From a standard list, this is:
-3 Street Wraith, -1 Thassa's Oracle, -4 Preordain, -1 Counter, -1 Draw
+1 Dark Petition, +1 Tinker, +1 Yawgmoth's Will, +1 Bolas's Citadel, +1 Lotus Petal, +1 Mana Crypt, +3 Moxen, +1 Sensei's Divining Top
Basically, we're cutting a lot of draw to win either with Doomsday like usual, or Tinker into Citadel to find a line with that. While Doomsday doesn't leave much life to use with Citadel, a [Black Lotus, Ancestral Recall, Thassa's Oracle, X, X] pile can go off instantly for no life. Things get interesting if you have your land drop and life to spare. The amount of possible piles is incredibly interesting with a Citadel in play. Bonus nachos is that being a Dark Ritual deck, hard casting Citadel isn't out of the question either.
---
If you enjoy these articles, consider supporting me on Patreon. Or how about a tip via Paypal? You can even sign up with ManaTraders using my link to give me some bonus credit.
Best of luck to everyone playing this weekend!
And thanks! I love you.