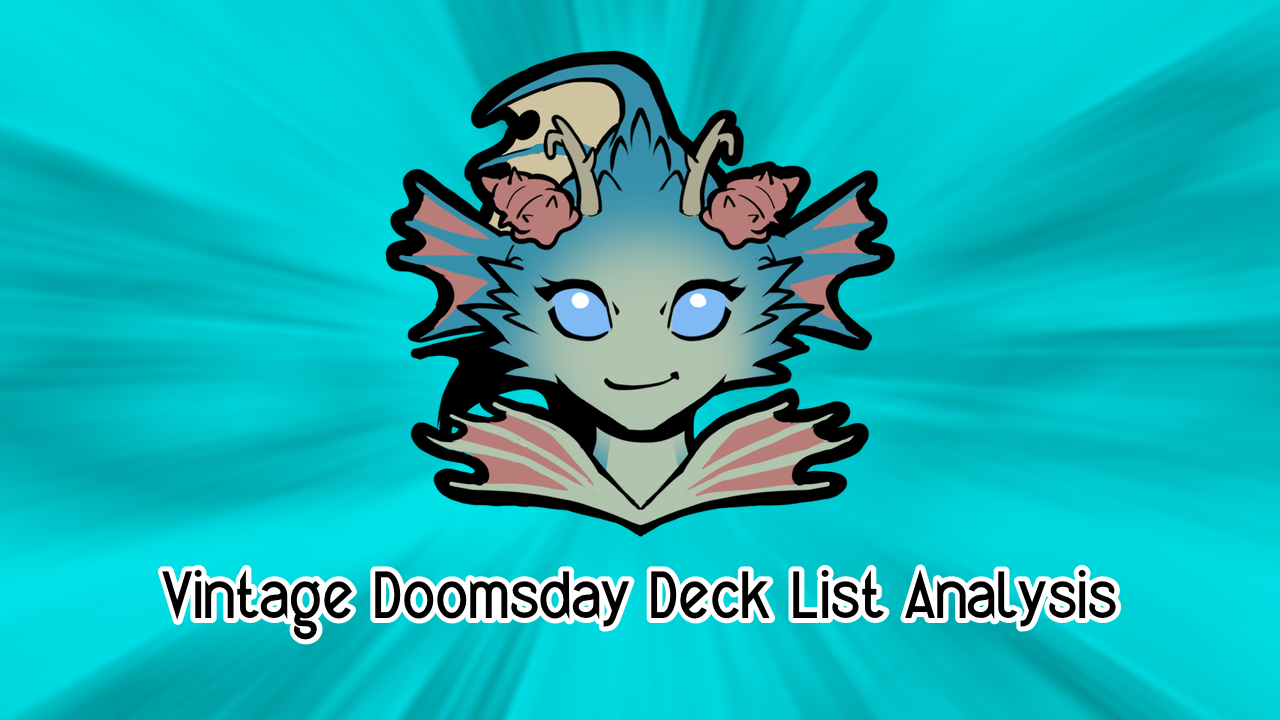 Vintage Doomsday Deck List Analysis for 2021.07.10-11
We have some interesting differences this week. With the Showcase Qualifier coming up, it's worth diving into these differences.
Saturday Challenge
Sunday Challenge
Preliminaries
League
Core and Differences
Core
ecobaronen (1st Place) Differences
MaxMagicer (13th Place) Differences
ZYURYO (16th Place) Differences
discoverN (24th Place) Differences
Condescend (27th Place) Differences
Diem4x (2nd Place) Differences
ecobaronen (17th Place) Differences
discoverN (18th Place) Differences
revenantkioku (3-1) Differences
Total Differences
Thoughts
A 55-6 core is interesting as we have not seen much deviation lately. I usually do not make charts for main differences, but this week seems to call for one.,

So, bad on me for replacing Necropotence for Opposition Agent. Screwing myself with data to handle here. But I personally have not really missed ol' Skullface. The only time I wanted it was in the mirror, and they countered my Agent anyway, so I doubt Necro would have resolved. That said, is it right? I'm not sold yet.
Portent leads over Treasure Cruise, which is a curious choice to be sure. The thing here is that it was used by ecobaronen, who also chose to go with an extra Daze and Flusterstorm instead of Force of Negation and Mystical Dispute. My guess is these would help fill your graveyard faster, making Treasure Cruise more powerful.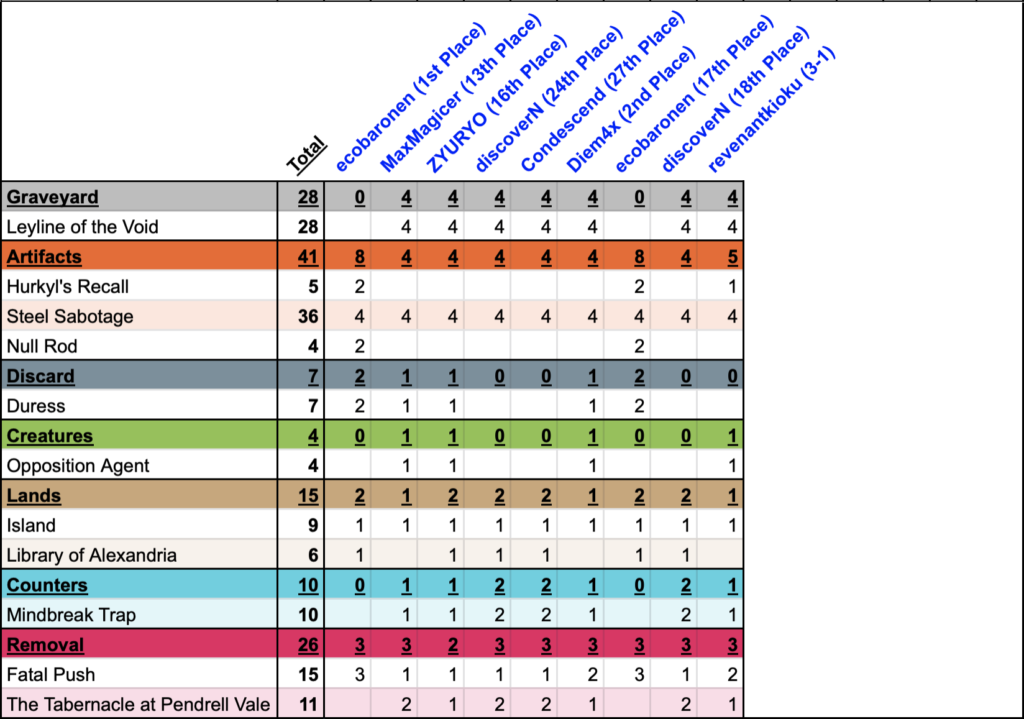 These are mostly the same, but ecobaronen made the interesting choice of foregoing any Bazaar hate and instead going hard on Artifacts. With all the Urza's Sagas around, this does not seem to be a bad idea, especially considering some thing Bazaar decks are weaker now. I don't agree, but that seems to be a common thought.
But here's the thing about Doomsday versus Bazaar decks. It's really a tossup. And while Leyline of the Void is a good card, if we're not playing it, we can just focus on the win. Thinking of Bazaar matchups as a combo race instead of an aggro/control matchup is probably a good idea. I reached out to ecobaronen and the plan for the matchup seems to be to take out Necropotence and Mental Misstep for the two copies of Duress,
Best of luck to everyone playing in the Showcase Challenge this weekend!
---
If you enjoy these articles, consider supporting me on Patreon. Or how about a tip via Paypal? Thanks, and good luck to everyone playing this weekend! I love you.