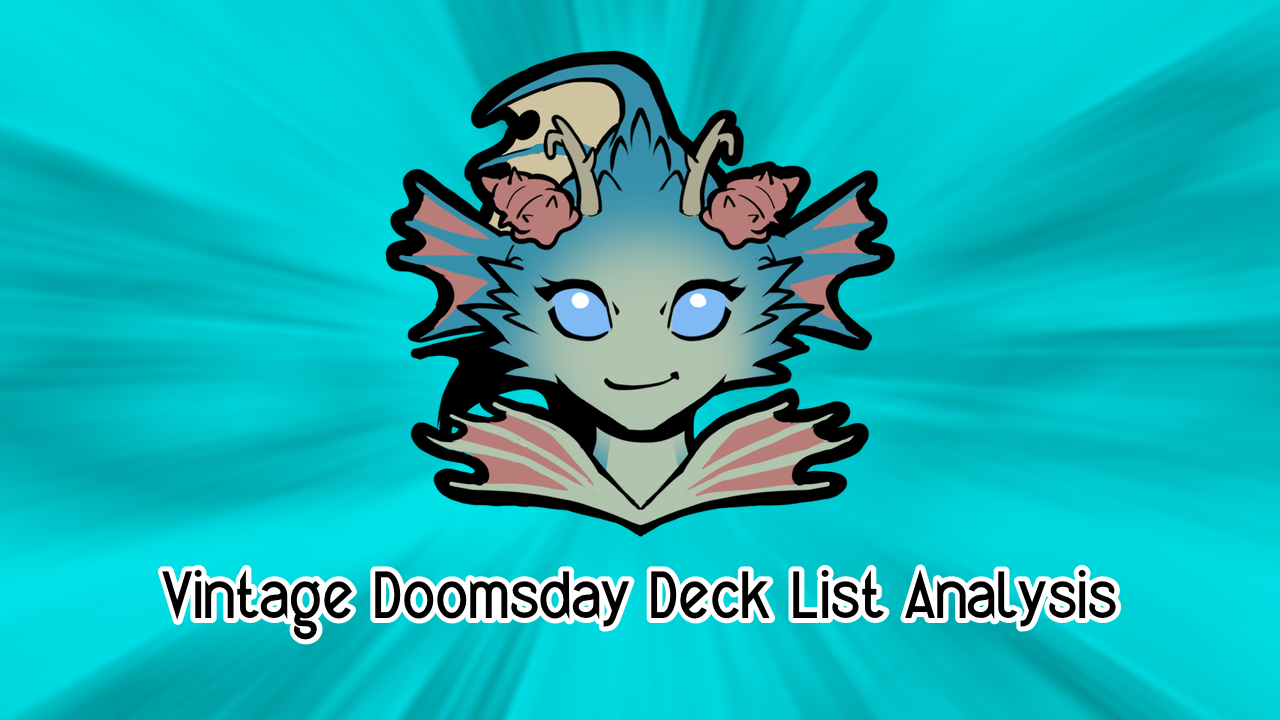 Vintage Doomsday Deck List Analysis for 2021.05.15-17
Fifteen lists this week! There's a few repeat players, but some of them still changed their lists up. Let's dig in.
Saturday Challenge
---
Sunday Challenge
---
Preliminaries
---
League
---
Core and Differences
Core
Condescend (2nd Place) Differences
sixmp (5th Place) Differences
duke12 (13th Place) Differences
fr0z3nsun4 (14th Place) Differences
killersuv (20th Place) Differences
Diem4x (25th Place) Differences
sinister85 (26th Place) Differences
SingPanMan (5th Place) Differences
revenantkioku (8th Place) Differences
killersuv (9th Place) Differences
ZYURYO (11th Place) Differences
Diem4x (13th Place) Differences
sixmp (22nd Place) Differences
TakeYourT1me (5-0) Differences
Diem4x (3-1) Differences
Total Differences
Thoughts
It's a Main:58 Side:6 Core this week, so there's going to be a chart to look at those side board differences. That's not to say the main is uninteresting. Okay, sure. SingPanMan played a Watery Grave while everyone else played a fetch land. That's nothing new. Nine lists have Portent, two Treasure Cruise and one Peek. Again, nothing special. What is new is one list with Opposition Agent and two with Drown in the Loch. That's right. In the main.
Bazaar numbers have been down, which gives value in having a 3/2 that interferes with fetching. It can even mess with Golos or Inventors' Fair, although I doubt that comes up often. Drown in the Loch is an interesting choice. I spoke about its flexibility last week, and it likely goes up in value as mirrors increase.
Now let's take a look at the sideboards.

As usual, SingPanMan is on a 3 Leyline of the Void and 1 Planar Void split. We see both sixmp and killersuv play copies of Ravenous Trap in their lists, which is likely a hedge against Breach decks. TakeYourT1me has a Surgical Extraction for extra graveyard hate.
Four of us decided to bump our Artifact hate up to five cards with a Hurkyl's Recall. TakeYourT1me replaced one Steel Sabotage with it.
Only four players chose to not play Duress in the side. Half of those who did (myself and SingPanMan) had two copies of Drown in the Loch. The other two (Condescend and killersuv) had a variety of differences.
Library of Alexandria had a decent showing this week with five copies. TakeYourT1me chose not to play the Island. Although League lists always have a greater chance of being different. Hard to say how much that mattered without knowing their opponents.
Mindbreak Trap was also in high numbers this week, but only Condescend chose to play two copies.
Only SingPanMan and myself did not play Fatal Push. Again, Drown in the Loch took that spot. We both had Tabernacle, and so did Condescend with only one Push. But it seems sixmp squeezed in the Ravenous Trap in instead of a Push or Tabby. TakeYourT1me played two copies of Fatal Push and a Tabernacle.
There was a lot of Doomsday this weekend. Two copies of Opposition Agent makes sense. What surprises me is how many people have extra Graveyard hate despite Bazaar being down. But as they say, that is the best time for Dredge to shine. Don't take out your Leylines this weekend.
Sedgemoor Witch decks are still on the rise, and I'm not sure how to act. We may need to treat them as Tinker/PO decks with extra Mentors and hope to avoid their Flusters. Duress might be even more necessary now.
I'm still high on Drown in the Loch, but I may swap Tabernacle for something to help with these Big Blue matchups. It's going to be an interesting weekend as we are closing in on the first Showcase Qualifier this season. Mark your calendars, it's May 29th. (Or 2am the 30th for us players in Japan. Pray for me.)
If you enjoy these articles, consider supporting me on Patreon. Or how about a tip via Paypal? Thanks, and good luck to everyone playing this weekend! I love you.