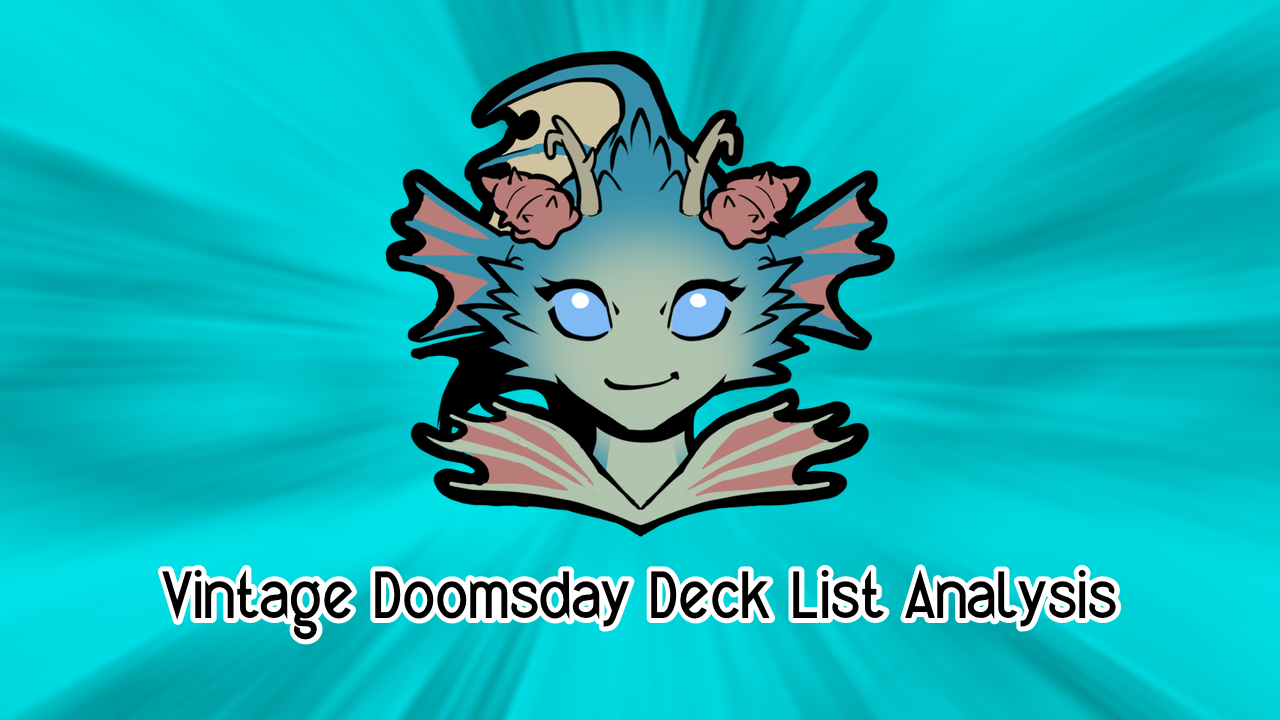 Vintage Doomsday Deck List Analysis for 2021.05.09-10
Not only did Doomsday take the top spot of both challenges, and we're starting to see some experimentaiton in the sideboards in this new Witchy world.
Saturday Challenge
Sunday Challenge
League
Core and Differences
Core
Diem4x (1st Place) Differences
zachattack23 (11th Place) Differences
discoverN (15th Place) Differences
MaxMagicer (18th Place) Differences
SuperCow12653 (19th Place) Differences
discoverN (1st Place) Differences
sixmp (7th Place) Differences
SingPanMan (15th Place) Differences
ZaeferMalkav (5-0) Differences
Total Differences
Thoughts
We have a 57-5 Core this week. One slot is SuperCow12653 and SingPanMan playing Watery Grave over a fetch. The other seems to be between Portent, Treasure Cruise and Peek. The interesting one is how SuperCow dropped Necropotence. I doubt Thought Scour is the right replacement, but I applaud trying it out.
The sideboards get wild this week. Everyone agreed on an extra Island and four Steel Sabotage, but that was it. Here's a breakdown.
SingPanMan playing Drown in the Loch stands out to me the most. I like this. A lot. It's more expensive than Fatal Push, and not "free" like Mindbreak Trap. But this card is versatile. (And it pitches to Force. Obvious? Yes, but it can be easy to miss the obvious. I know I did at first.) I gave the card a spin and liked it even more than at first glance.
SuperCow12653 played an interesting sideboard that eschewed graveyard hate. Instead there is a Hurkyl's Recall, a Sedgemoor Witch, the third Fatal Push and the fourth Flusterstorm. Not running Tabernacle also allowed for an extra Mindbreak Trap. discoverN is the only other player doubling up on the card.
I'm surprised Witch only showed up in SuperCow's list, but only a little. I wasn't too pleased with its performance in Doomsday. It does not work with our game plan. That said, it is powerful enough to do work.
The Tabernacle at Pendrell Vale is still at low numbers. This might be what spurred SuperCow's plan. Dredge already plays main-deck answers to Leyline of the Void, so why not go all in on winning? I like it, and would not mind dropping them myself. Too scared to, though.
If you enjoy these articles, consider supporting me on Patreon. Thanks, and good luck to everyone playing this weekend!