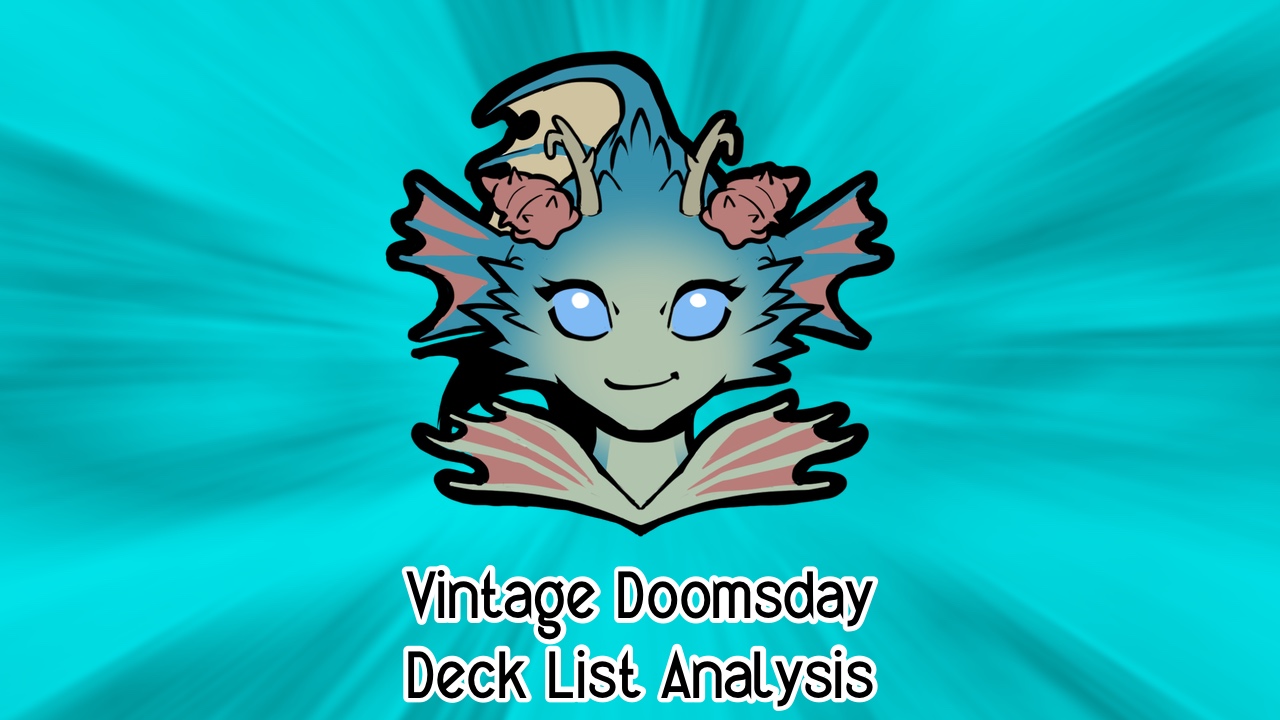 Vintage Doomsday Deck List Analysis for 2023.07.30
Oh, Tinker Doomsday, where have you gone? Refinement time, I am sure.
Saturday Challenge
Sunday Challenge
League
Core and Differences
Core
CrazyDiamond513 - 6th Place Differences
sixmp - 16th Place Differences
discoverN - 17th Place Differences
bennybo - 20th Place Differences
Tsubasa_Cat - 26th Place Differences
CrazyDiamond513 - 3rd Place Differences
Vertyx3 - 6th Place Differences
discoverN - 16th Place Differences
CrazyDiamond513 - 5-0 Differences
Total Differences
Main Core: 57 cards Side Core: 1 card
Averages
Main
Averages
Side
Averages
CoreCombo
6.0
AntiArtifact
2.78
Counter
10.33
AntiGraveyard
4.0
Discard
1.0
Counter
2.0
Draw
17.67
Creature
1.33
Lands/Mana
21.0
Removal
4.89
Tutor
4.0
Weekly Differences
Main
Difference
Side
Difference
Anti-Artifact
±0
Anti-Artifact
-0.51
Counters
+0.04
Creature
+0.19
Discard
+0.29
Removal
+4.89
Draw
+1.10
Tutor
-4.57
Lands/Mana
-0.57
Removal
-0.29
Tutor
+3.71
Other
-4.29
Thoughts
Tinker Doomsday has yet to catch on. Copy/Past meta.
Okay, I'll stop making jokes. I know some people are having results, and most do better than me at Doomsday. I just like to tease. If you know me, you know I'm a lovable guy. But I digest.
Very, very samey main lists this week. Everyone agreeing on Duress feels a bit rare. Mystical Dispute making a comeback is interesting. Being able to snag a Hullbreacher as well as the standard array of Blue spells is nice as we continue this Blue The One Ring meta.
Sideboards are quite diversive, though, as sixmp decided to skip Steel Sabotage for Hurkyl's Recall and CrazyDiamond513 is not playing Leyline of the Void.
I've run the 2 Surgical Extraction package before. It does work, and feels like it has legs against other decks – but you must be careful about oversideboarding Surigcal Extraction. It is so tempting. Pithing Needle is similar. There are places you might want it, but remember the goal: Cast Doomsday and win.
Orcish Bowmasters being the most common creature this week may look surprising, but CrazyDiamond513 has also been on a tear. I quite like the Orcs. They can do a number on Bazaar based strategies, as well as simply give two blockers for two mana. Sometimes that is all you need.
---
If you enjoyed this article, consider supporting me on Patreon. Or how about a tip via Paypal? You can even sign up with ManaTraders using my link to give me some bonus credit. Got an Amazon Prime subscription? You can give me a free sub on Twitch!
Best of luck to everyone playing this weekend!
Remember: Always Be Casting Doomsday.
And thanks! I love you.