Vintage Doomsday Deck List Analysis for 2022.03.12-13
Another challenge win for Doomsday, but there's quite a bit of a dip in the number of published lists.
Saturday Challenge
Sunday Challenge
League
Core and Differences
Core
MaxMagicer (1st Place) Differences
discoverN (15th Place) Differences
discoverN (13th Place) Differences
HouseOfManaMTG (16th Place) Differences
billster47 (32nd Place) Differences
4minutesMile (5-0) Differences
Total Differences
Thoughts
Main Core: 55 cards Side Core: 11 cards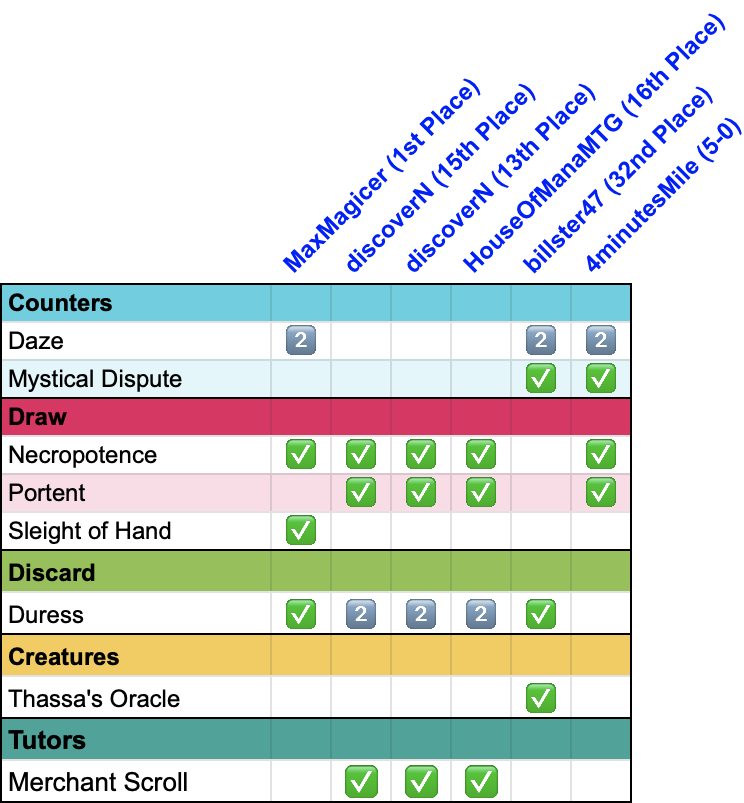 I always have respect for someone trying a build without Necropotence. I'm not sure if another Thassa's Oracle is the best choice, but it's not the worst option.
Duress is still up, Daze is still down. Portent is more popular this week, although that's likely people following discoverN's lead.

Nothing particularly spicy in the side this week, although discoverN seems to be off Hydroblast, but still not playing any creatures in the side. Almost everyone seems to be up to 5 cards for Shops. discoverN is packing a third Duress in the side. That's sending a message.
---
If you enjoy these articles, consider supporting me on Patreon. Or how about a tip via Paypal? You can even sign up with ManaTraders using my link to give me some bonus credit.
Best of luck to everyone playing this weekend!
And thanks! I love you.