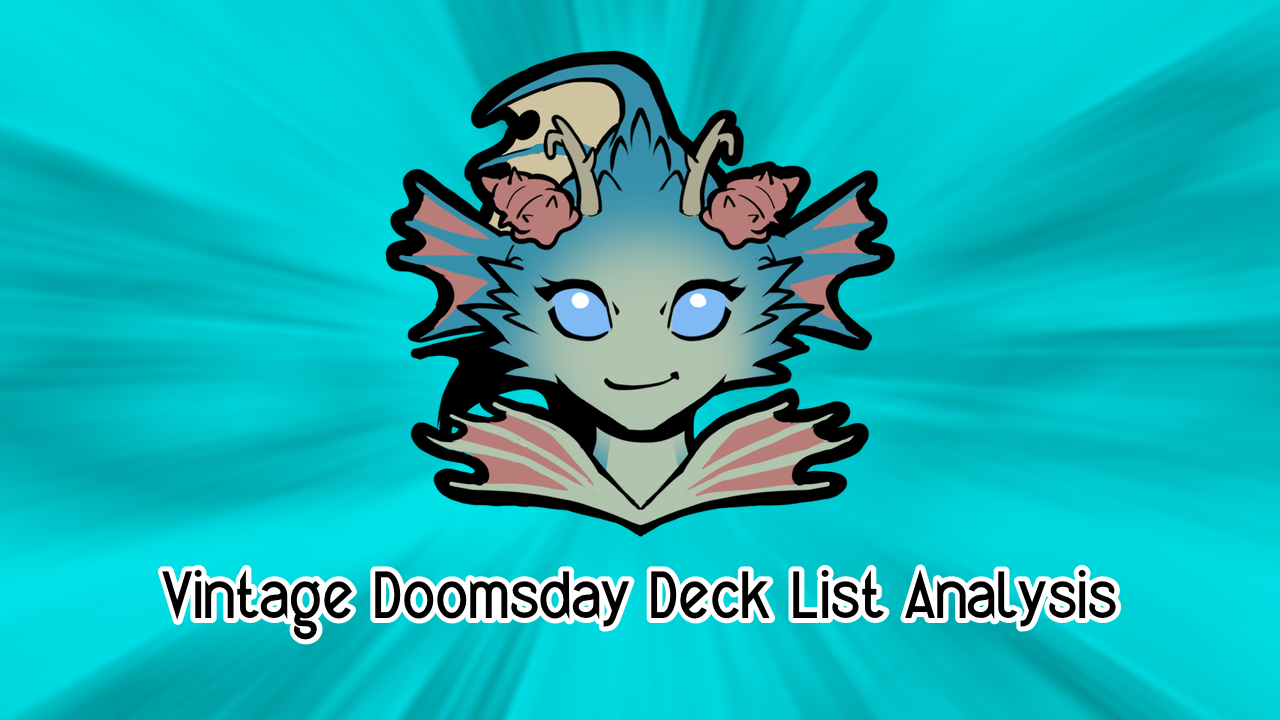 Vintage Doomsday Deck List Analysis for 2020.11.07-08
2020.11.07 Challenge Decks
2020.11.08 Challenge Decks
2020.11.08 League Deck
2020.11.08 Preliminary Deck
Let's take a look at the core of these seven decks.
Core
The core isn't surprising at this point in the deck's life.
As far as the sideboard goes, it seems Steel Sabotage has become the official four-of for Shops. Other than that, it's up to personal taste.
Now let's take a look at the differences.
2020.11.07 Challenge SingPanMan (19th Place) Differences
2020.11.07 Challenge billster47 (28th Place) Differences
2020.11.08 Challenge _INF_ (12th Place) Differences
2020.11.08 Challenge Tiemuuu (24th Place) Differences
2020.11.08 Challenge SingPanMan (31st Place) Differences
2020.11.08 League IdraftTheBeatz (5-0) Differences
2020.11.08 Preliminary sandydogmtg (3-2) Differences
Breakdown
We can see almost everyone had 3 Draw, 3 Interaction, and 7 Lands. (sandydogmtg replaced one piece of Draw with a Lotus Petal.)
Looking closer at the mana, it was generally 2/3 Lands and 5/4 Fetches or 1 Land in the main, 1 in the side and 6 Fetches. sandydogmtg broke the trend again with 2 Lands main and 1 in the sideboard.
Watery Grave
has been a recent addition in what seems to be an attempt to squeeze in more Black sources while becoming a bit more resilient to
Underground Sea
being hit with
Surgical Extraction
. There does not seem to be a correlation between playing Watery Grave and not playing more
Daze
.
Extra Draw comes in four types. Street Wraith is the most common because it is "free", and while Treasure Cruise won't be cast post-Doomsday, it can be a powerful refill. Cling and Peek both offer a bit of interaction for Bazaar and Xerox decks respectively. Cling can also play well when fighting an opposing Deathrite Shaman or Surgical Extraction, so choosing between these four comes down to meta calls and preference. Street Wraith is worse when there is more Aggro and Treasure Cruise can be clunky when your opponent is playing lots of counterspells.
This section is where we see the most variety, but it comes down to Discard, Bounce, or Counterspells. The common pattern is all counter or one other piece with two counters. billster47 went with one of each type. With
Chalice of the Void
restricted,
Chain of Vapor
becomes more useful. (Although be careful about casting it when you have
Necropotence
out.)
Sideboard Analysis
Gurmag Angler has been showing up here and there instead of Tasigur here and there and I'll be honest that I'm not seeing the advantage, other than potentially in Doomsday mirrors?
I should probably list Null Rod as PO-hate, where it probably shines more than against Shops, but it clearly has its applications against the less aggro Shops builds.
Massacre is a logical response to the increase of Thalia-based Hatebears decks on the rise as of late. Feed the Swarm is interesting for its uses against Oath of Druids and _maybe_ Necropotence as well as the standard variety of creatures, but I'm not sure the life-loss and Sorcery-speed will have it earning its place anytime soon.
None of the rest particularly stands out this week, although Duress does seem to be up a bit more than usual.
Best of luck to everyone playing in this upcoming weekend's events!